FutureLearn is a UK-based online education provider that provides online courses, also known as MOOCs or Massive Open Online Courses, from leading universities and institutions around the world. It currently has 175 partners, including many of the best universities in the United Kingdom. Amnesty International and UNESCO are two non-university partners. The Open University, which has a long history of distance learning and online education, launched FutureLearn in 2013. FutureLearn has an active catalogue of around 1100 online courses and is the world's fifth most popular MOOC provider by number of students (over 15 million).
FutureLearn, like popular e-learning platforms edX and Coursera, offers virtual, flexible, and less expensive access to top universities like Johns Hopkins and the University of Michigan, as well as brands and organisations like Amnesty International and Samsung. FutureLearn, like edX and Coursera, offers a wide range of free courses, certificate programmes, and even degrees, allowing students to earn short-course credentials or work toward a less expensive master's degree. Because FutureLearn is based in the United Kingdom, many of the offerings include top British and international universities such as University College London (UCL), the University of Cape Town, the University of Oslo, and Hanyang University, among many others. This can give you access to more specialised coursework, such as a free course from the University of York on how digital technologies affect our wellbeing or a master's degree in End of Life Studies from the University of Glasgow.
Those who aspire to study outside the United States in the future can use FutureLearn's courses to learn more about a specific school and its specialties before deciding to apply. The differences between FutureLearn courses and programmes are outlined below (including cost). Some of FutureLearn's most popular online classes were also included.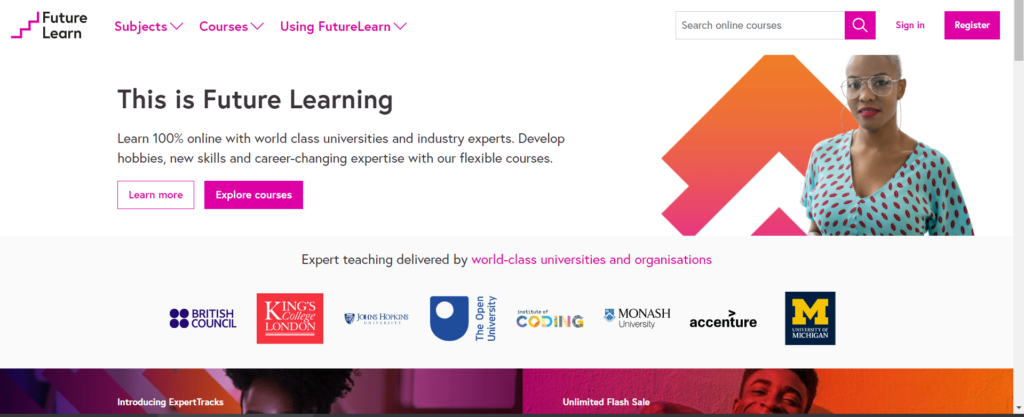 FutureLearn Courses
FutureLearn offers a variety of short courses that you can join and audit for free. The free version of the courses, on the other hand, expires after five weeks and does not include tests, grades, or a certificate of completion. To get unlimited access to the course material and a certificate, you'll need to upgrade for most courses.
It's also worth noting that courses that are part of longer programmes are not eligible for free auditing. There are a few longer programmes that allow you to audit individual courses for free, such as Exploring Culture and Heritage and UX Design and Research. The only other free option is a seven-day trial of ExpertTrack courses, after which you'll have to pay a $39 monthly fee to keep learning (similar to Coursera's model).
What are the costs of FutureLearn courses?
Completing FutureLearn coursework can cost anywhere from nothing to a little over $1000, depending on the course or programme you choose (see below). Official master's and graduate certificates, which do not have prices listed, are not included.
Different Courses offered by FutureLearn
Following are the type of courses that are offered by FutureLearn:
Short courses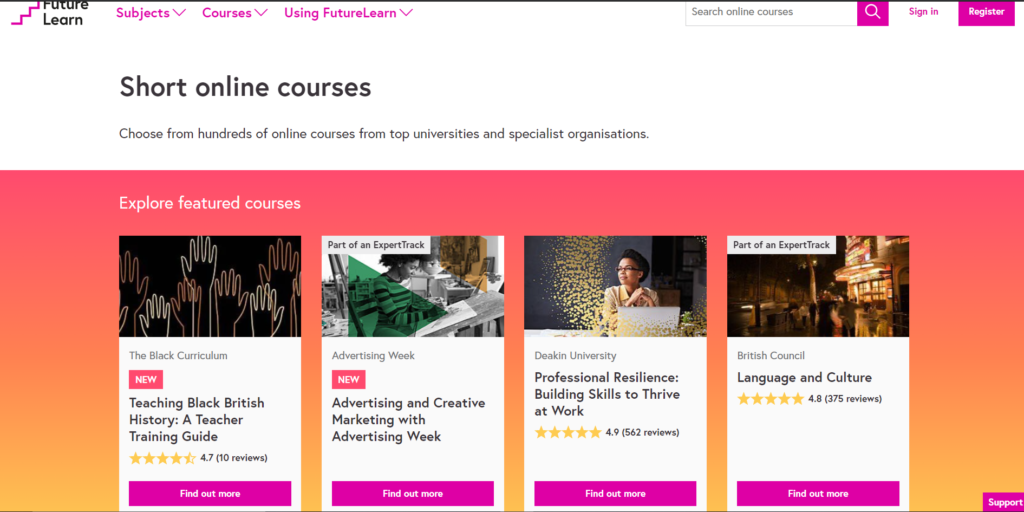 Short courses are one-time classes in a specific subject that last between two and four weeks. You simply need to pay to upgrade from the free version to get a certificate (and access to grades). A certificate can be added to your resume or LinkedIn profile if you pass the class. One of the advantages of short courses is that you can look through or audit the majority of them for free before committing to a certificate.
ExpertTracks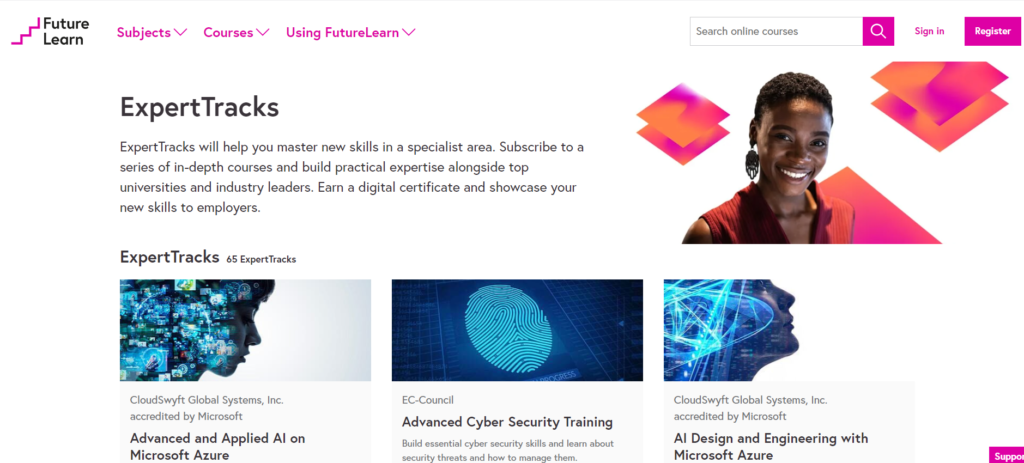 ExpertTracks combines several connected short courses to provide more in-depth training in a subject such as Python or fintech. They can last anywhere from 8 to 22 weeks. They are available for a free 7-day trial, after which they cost $39 per month to continue learning, so the faster you complete them, the more money you save. You'll receive a digital certificate to share on LinkedIn or with potential employers once you complete and pass an ExpertTrack.
Microcredentials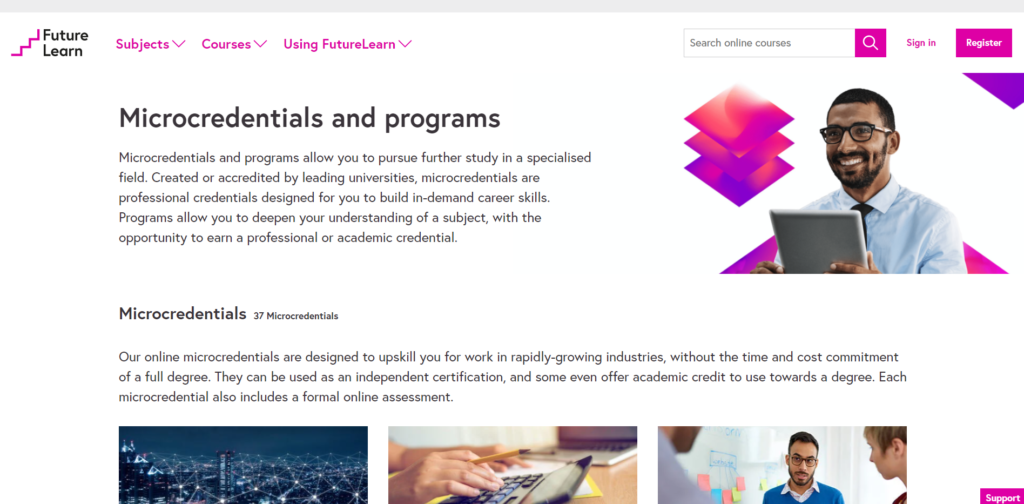 Microcredentials are similar to ExpertTracks, but they're more focused on developing in-demand skills and don't have a free trial option. They range in price from $639 to $1,134, with the majority being under $1,000.
There are a few academic programmes on FutureLearn, such as Purdue University's Digital Media Analytics, that allow you to apply your paid certification for credit hours toward a master's degree (each programme has its own specifications). Finally, FutureLearn offers a variety of master's degrees and graduate certificates online, with more flexibility than an in-person university (you can earn a degree from a UK school even if you don't live in the UK, for example). However, tuition costs aren't listed; you'll have to request more information about a specific programme to learn how much it costs.
FutureLearn Unlimited
FutureLearn, like Coursera Plus, offers an annual subscription called FutureLearn Unlimited, which gives you access to an unlimited number of short courses (including certificates of completion for each one you finish and pass). It costs $189.99 for a year and is a good choice if you plan on taking a lot of short courses and want the freedom to complete them on your own time. ExpertTracks, Microcredentials, and online degrees are not included in Unlimited.