Amazon is among the top e-commerce stores worldwide, which is equally popular among both shoppers and sellers. It has rolled out the Amazon FBA business services to cope with sellers' ever-rising demands. The FBA service allows Amazon FBA sellers and other operating businesses to leverage the platform's powerful distribution network. Besides, it also enables you to take advantage of the extensive customer base to realize their business dreams.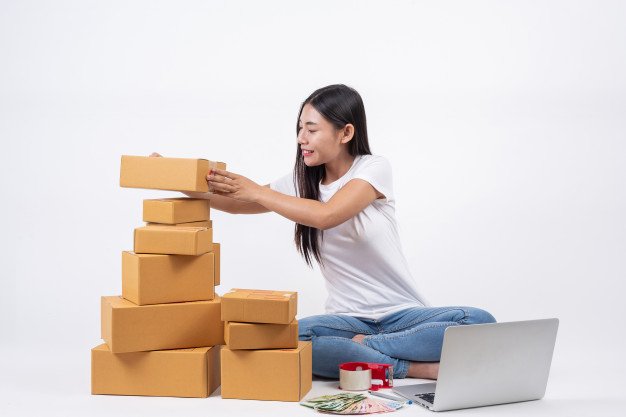 If you are wondering how to sell on Amazon in 2021, we have got your back. This blog will give you a more in-depth insight into the process of becoming an Amazon FBA seller. Amazon's robust FBA model allows the sellers to scale their business globally, but you need to consider Amazon FBA fees as well. You will not have to take care of inventory, packing, and shipment. Besides, if you are an Amazon FBA seller, you will be eligible for free delivery and qualify for the Amazon Prime program.
How To Sell On Amazon In 2021?
The step-by-step guide will give you an overview of becoming a successful Amazon FBA seller.
Create a Business Plan
If you want to start an Amazon FBA business, you need a proven and robust plan to ensure you are on the right track. An effective business plan should include the market analysis, business mission, marketing and sales strategies, financial details, etc. For this, you have to do rigorous market research, run an audit of competitors, analyze the market trends, and figure out their product sourcing and placement strategies. An Amazon FBA seller can start with a rough business plan for business activities. 
Find Your Niche
Starting Amazon FBA for beginners can a daunting task. You should start with a profitable niche to ensure you will have a profitable business. Do thorough market research to find competitive products to match your interests. Study the product trends, emotional impact, recognition, practical value, and visibility. Don't get involved in seasonal or fragile products.
Start Market Research
After determining the niche, you should verify the product's demand through market research. Keep a track record of your competitor's sales for a more realistic view. You can also opt to communicate with suppliers and customers to know about their sentiments regarding a product you are interested in selling.
Identify Product Suppliers
The next step to start an Amazon FBA business is to find cost-efficient suppliers. There are various cost-efficient methods to get in touch with suppliers. For instance, you can use Alibaba and AliExpress to find suppliers who will provide the desired product at cutting-edge costs.
Try to know about the minimum order quantity (MOQ), sample products, product quality, capacity, order limit, shipping charges, etc.
Place Orders
After choosing your supplier, you should place the order. However, you should always get sample products first to know the quality.
Whether you are starting an Amazon FBA business, a wholesale setup, or online arbitrage, your first order should not be large. Start off by placing small orders, try to sell them, and ask for feedback from customers. In the meantime, don't lose contact with suppliers.
You should also have a product quality inspection in place when placing an order. Inspect the material, production processes, and finished products before shipping.
Create Product Listing
Once you have placed the order, you should create product listings. If you are a beginner, you should look for an Amazon FBA for beginners' guide to make sure everything is on the right track. 
The process of creating product listings involves numerous steps. It starts with adding clear and HD product images. After that, you need to ensure that your products are prime eligible to enjoy free shipping. If you plan to offer a few products at the start, you can list them manually. In case you have many items, you can upload a spreadsheet that will contain each item.
Manage Your Inventory
If you are an Amazon FBA seller, you have to pay special attention to inventory management. Try to replenish the inventory efficiently as Inventory levels are of significant importance. You must ensure that there are enough items to sell. Keep updating the inventory as you start receiving the orders from clients. Amazon will be responsible for shipping orders, handling returns, and refunds, etc. and will charge Amazon FBA fees for the services.
Follow up Customer Reviews
When prospects land on your business page, they are more likely to refer to feedback left by other buyers. Don't hesitate to get customer reviews as it indicates your credibility that you have built over time among the target customers.
Such testimonials from credible customers are social proof for your products and business. So, follow-up on customers' experiences to leave feedback
Optimize Product Listings
Optimize your product listings by monitoring the sales performance and targeting your business's pain points. Product listing optimization will get more website traffic, and you will seal more deals.
Tip: Optimization shouldn't be a one-time thing. It should be a continuous process.
Start with keyword research and insert the most relevant keywords into the product titles, descriptions, features, etc. You can leverage the Amazon algorithms in your favor. For this, you can use Google Keyword Planner to make sure you are identifying the most relevant keywords to bring more conversions.
Besides, images are essential, and you should use 5-7 high definition product images from different angles. Try to make them as appealing as possible.
Also, display the most important information and compelling language in the features and description section. Put yourself in customer's shoes and target their needs wisely. Use CTAs to boost conversions and sales.
Final Thoughts
Amazon FBA for beginners can be a mind-racking job as you have to consider many things while setting up your business. Product hunting, sourcing, inventory management, Amazon FBA fees, Product listing optimization, and a lot more. However, we hope this guide has answered your queries of how to sell on Amazon in 2021 for optimal results.