In this modern-day and era, people are always aiming at what's the new trend be it in house decor and design. However, there are still some old souls who still prefer the warm, cozy welcoming look of a rustic home. A rustic style kitchen is one with a real easy-going look, mostly made out of wood and stone. For it to be rustic one has to emphasize the usage of natural materials.
You might have a beautiful cabin in the country, a place you go and escape the chaos of the city and pressures of life. For that, you will need a place where even the design and style are more welcoming. It has to be easy going as compared to your normal modern-styled home. Some people may have a modern designed kitchen in their homes and decide to go natural. It is a very possible project. There are several aspects you have to bear in mind.
The Layout of The Kitchen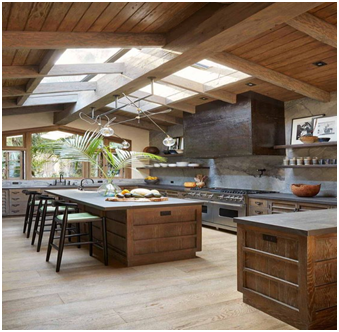 Source: https://www.pinterest.com/pin/67765169381448620/
The physical layout of your kitchen often is a significant factor to consider. This is because when you envision how everything should look in the end you have things arranged in a certain way. Therefore, establishing a layout that best works for your end goal is important.
For example, if you prefer having your dining area more lit you should consider placing it nearer to the window. If the layout does not allow then you can actually get reliable lighting from a Chinese lighting manufacturer and install them to your liking. The layout of the kitchen has to work for you.
Materials Used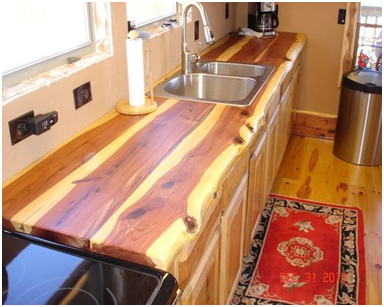 Source: https://www.pinterest.com/pin/5488830784846455/
A rustic kitchen has to be made up of natural materials, either stone or wood. When setting up the place you can go for a stone wall, a wooden floor, and a vaulted ceiling or one with exposed beams. Furniture items such as stools or dining chairs that are made from wood reclaims would definitely fit, giving the kitchen a beautiful edge.
The countertops could be made of a wood-paneled island and wood exposed beams. You can also secure an easy-to-maintain countertop from table tops China, which is made of the finest wood veneer. Wood cabinets would also blend well with the rustic theme and ensure the wood designs for the different materials do not contrast in an unpleasant way. The thing about using natural materials for your home, it gives the place a warm and honest general look.
Appliances Used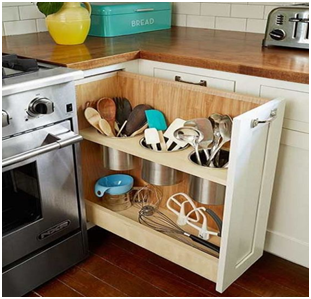 Source: https://www.pinterest.com/pin/3166662228195946/
You can go for the usual modern-day appliances for the kitchen, however, just to put emphasis on the theme look for natural designed items. For instance, you can go for a wooden fruit bowl for the dining counter as compared to stylish modern bowls. Also, you can use a wooden chopping board instead of a plastic one. Finding new ways to make the kitchen look warmer is the goal.
Design and Decor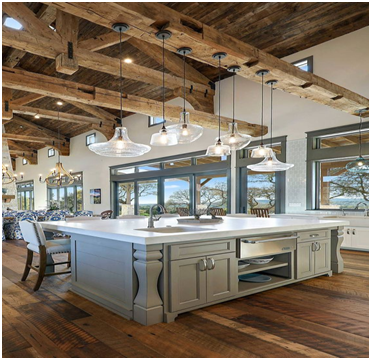 Source:https://www.pinterest.com/pin/7459155625185182/
It is very important to factor in the kitchen decor in that you are able to blend proper colors to the theme. White tends to beautifully blend with the natural rustic look. Also, the arrangement of the items can bring an edge to the style. You can try arranging your pots and pans on the island for both storage and aesthetics.
You can also keep the kitchen orderly by packaging items using eco-friendly boxes from cardboard perfume boxes. When designing for instance the art, you can use family heirlooms that have been passed down through generations. You can also use items you have bought on a flea market or auction. All colors should blend with the wooden or stone theme.
Cost Friendly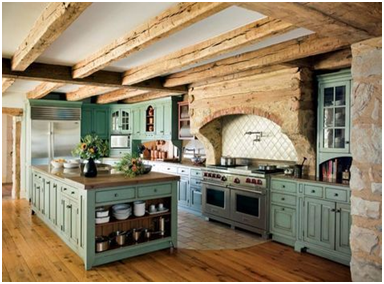 Source: https://www.pinterest.com/pin/16958936081932604/
It is all about making good use of old furniture or items. To pull off a rustic theme not too many materials are needed and they can be acquired at very cost-friendly prices. Some items are based on improvisation, for example, using a family heirloom for wall art. When buying items on the flea market it's like giving them new beginnings and being sold at affordable prices.
Conclusion
Always aim to maintain the natural charm of the materials used for the rustic kitchen. It doesn't matter where you live, you can totally pull off a rustic and stunning look in your home. Depending on how well you have designed and decorated the space it becomes classy. An elegant rustic kitchen even in an urban setting can look extremely stylish. The warm and aesthetic look is one that never goes out of style.