Magento has proven to be a popular choice for enterprise eCommerce brands. According to some stats, Magento powers 31.4% of top 100,000 eCommerce sites.
But since there is a continuous pressure of selling in today's IoT world, to select an enterprise eCommerce platform one needs to play something more than a numbers game. In this article, you will go through some key reasons for considering Magento and the review of the top Magento hosting provider of India.
Reasons to Consider Magento for Your Ecommerce Platform
Magento is an Open Source
Magento comprises of two editions i.e. Magento Community Edition and Magento Enterprise Edition. From these two, Magento Community Edition is completely free. It is possible to install or use any version of Magento Community Edition easily. Developing and installing Magneto modules is also possible to accelerate the performance of your Magento store and to promote your e-commerce website with all new features and functionalities. There is a large library of Magento modules at the Magento Connect Marketplace. Therefore, Magento ranks top of the ecommerce industry due to the power of open source.
Especially created to be an Ecommerce Platform
Maximum businesses opt for Magento Website Development as Magento caters them with all their requirements up to large extent. Magento was created by developers to fulfil the custom requirements of an E-commerce platform. Therefore, Magento satisfies the business owners. Magento is the only platform offering ecommerce solution with more comprehensive features and designs.
High Performance
When the factors like page load time, query processing time and other dynamic and static operations come into the spotlight, Magento proves to be a clear winner in all aspects. According to the latest research, the users wait for just 2-3 seconds to load the website and will just leave the site immediately after that. This is very well-known to the Magento developers and so offers faster loading speed. Moreover the modern technologies like Varnish, Redis, Memcached, FPC and optimized databases used by Magento help to provide amazing user experience.
SEO Friendly
Being an open source e-commerce platform, Magento offers SEO friendly features. Additionally, you get several inbuilt SEO friendly features like SEO friendly URLs, URL rewrites, Search Engine, Sitemaps, Positioning Layer, Tags and Description etc.
Magento Community
Since the Magneto platform is open source, you will find a huge community of developers, bloggers, project managers, CEOs, designers etc. globally. Often the members of this community with interact with each other and contribute in the upgradation of Magento platform. Additionally, they help each other to resolve their issues if any. Magento is a safe as well as fast platform and the regular updates help meet the requirements of end users.
Flexibility
A unique and amazing user experience and frontend is created depending on multiple accessing devices by the Magento developers. Users can customize the back-end of the e-store to fulfil the specific requirements. One can also take control of the interfaces and processing capabilities of the ecommerce solution.
After checking the reasons for considering Magento for your ecommerce website, let's check why MilesWeb is the best web hosting provider for your Magento website.
MilesWeb Introduction
Being in the web hosting industry since 2012, MilesWeb has been catering several small and medium businesses to create their online presence. They enable smooth establishment of online presence by offering the latest technology on their servers at an affordable pricing. You will find all types of web hosting services with them such as cheap linux shared hosting, dedicated, VPS, reseller, cloud, WordPress and application hosting.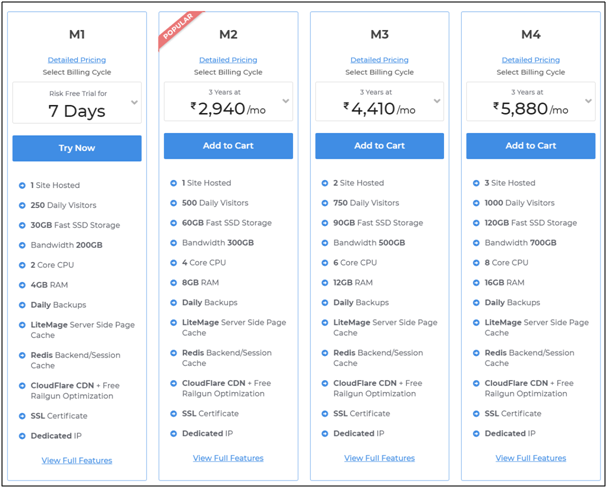 Key Features
Magento hosting at MilesWeb is based on LiteSpeed and LiteMage cache.
LiteMage is a high performance solution that offers high loads and sudden traffic spikes. With its enhanced tag-based cache management system, your Magento store's pages get quickly served without any interruption.
MilesWeb offers the below Magento Hosting features:
Redis Backend & Session Cache
Optimized Server
CloudFlare CDN + Railgun
Free Magento Installation
Magento Consultancy
Customer Support
MilesWeb offers 24/7 customer support via email and live chat. Their team helps to resolve all the issues related to Magento hosting.
MilesWeb Awards

Summing Up
So, due to its open source nature as well as other benefits, Magento has become world famous when it comes to ecommerce websites. Also, MilesWeb offers you all the features and benefits for your Magento website. Sign up for the Magento hosting plans and experience faster ecommerce website performance with MilesWeb.