If you are a Professional SEO or Successful Blogger then its obvious to get this same question asked around . However there isn't any perfect structure but yes best practices for SEO Optimization are available . So today I will give you an idea about Keyword Targeting and Perfect On Page SEO Optimization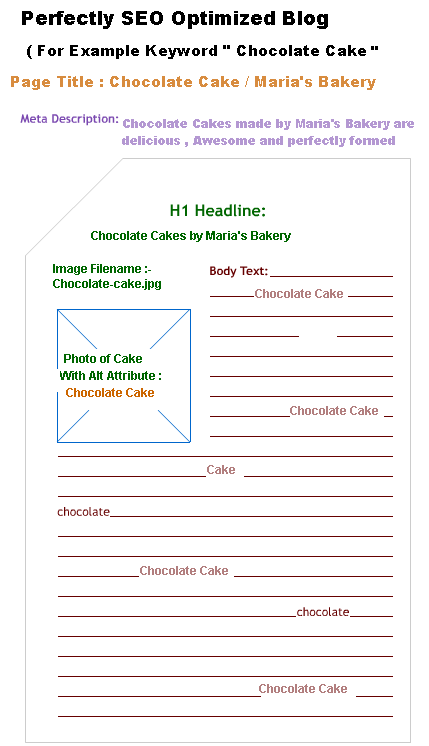 Above Structure defined in the image is the best On Page SEO And Keyword Optimization idea . So now we will discuss role of every element in your Article and their SEO Weight .
HTML Head Tags
Title :- Its the best and most important factor of On Site SEO . Keyword you want to rank article for should be in the starting of title . Its best to have Keyword as First Word in Post Title .
Meta Description :- Meta Description is not a main factor because it is not used by Major Search Engines to determine ranking and position . However its vital element because mostly time your Meta Description will be shown in Search Engine Results and if you are having good meta description to attract readers then CTR would increase . Hence traffic will also increase .
Meta Keywords :- Yahoo is the search engine which gives preference to Meta Keywords And Tags but now Microsoft's Bing have taken over Yahoo Engine so the only reason left to use Keywords is lost . So that we can say Meta Keywords doesn't carry much weight now .
Canonical URL Tag :- Hope you know about the term " Canonical URL " , If not then see here <link> . If your Blog/Website is large then you must make use of canonical URLs . It would save your website against duplicate content and URLs .
Permalink / URL
If your content is King then don't forget your article URL ( Permalink ) is Queen . Yes , URL structure carries impressive SEO Weight .
Length or URL :- Keep is as short as you can . Your URL must contain only important keyword . For example if your post title is " CBSE Board 10th Class Exams Result 2013 " then your permalink should contain only " cbse-10th-class-result " . Means you have to keep your permalink short . Search Engine Loves Short URLs .
Keyword Location :- So now question arises that Where should you place Keyword in URL for better rankings ? I would say your keyword must be closer to your domain . Means keyword should be present in starting of URL . So keep URL targeted and keyword close to domain .
Sub-domains And Pages :- Well , search engine gives preference to pages more then sub-domains . If you are using category based URL structure for your pages then its the best and you don't need to use Sub-domains for ranking . For example , From following URLs search engine will give preference to 2nd URL . :-
Sub-domain :- gadgets.technoupdates.org/Samsung-galaxy-camera-review
Page without Sub-Domain :- technoupdates.org/gadgets/samsung-galaxy-camera-review
Word Separators :- Hyphens are still the king of keyword separators used in URLs . Its the traditional And Best Performing Way . However your main domain shouldn't contain hyphens . technoupdates.org is far better than techno-updates.org .
Article Body Tags
Keywords Stuffing :- I would say it works ! . But that's a Blackhat Technique or say negative SEO . You may see your rankings going high by inserting keywords like a hell in article. But believe me you won't go much ahead. Once Search Engine caught you then there are very rare chances to get awesome days back . So just write your post for readers not for Search Engines .
Keyword Density :- Actually that's the topic which can be seen in every " SEO Related " articles or tips by various bloggers . But that's not the formula you can use to rank high . However its must and without it On Page SEO is incomplete .Keyword density should not be more then 2-3% .
My Suggestion :- Everyone keep saying that one shouldn't do keyword stuffing. But In my opinion if you are writing long articles which have more then 700 words in it then you can do keyword stuffing something above then average . If you are writing 1000 Words article then your keyword density must be 5-6% . I have tried it and it worked well .
H1 Heading :- Heading tags are much important for On Page SEO and H1 has more weight then other heading tags like H2 to H6 . Proper use of heading tags is must . H1 tag must not appear more then 1 time on your article pages . Also you should bind your keywords in H1 heading line .
Other Heading Tags ( H2-H3-H4-H5-H6 ) :- These tags are having less importance then H1 Heading Tag . These tags are having very less SEO Weight or say zero .
Alt Attribute :- Alt attribute is having small SEO Weight . Its an important factor . So I recommend to use at least one Photo in your article with the main keyword as Alt Image Tag / Title . Now when Pinterest is being used by most of webmasters , its vital to have an Image in article to share it at Pinterest and to get a decent traffic from there .
Image File Name :- Your article image must contain keyword name . You can easily get some natural search traffic just because of article image .
Bold / Strong :- This tactic is also suggested by some SEO Experts that include your Keywords into Bold / Strong Tags . But research have proved that it doesn't carry any SEO Importance ( Very Small ) . So you can make 2-3 Small Keywords Bold in your article . Don't exceed the limit and also don't add Bold / Strong Tag to Long Tail Keywords as it will look spammy to readers .
Italic :- Surprisingly, italic text have more importance and carries much SEO Weight then Bold/Strong Text . So I suggest to use your targeted keywords inside Italic Text .
Interlinking :- Interlinking is suggested by nearly every blogger and most of them do it too . But it doesn't have any connection with SEO . Yet its a must have component to use in article in order to decrease bounce rate of your website / blog and keeping visitors on your site for more time . It can be used to pass some Page Rank juice across the inner pages .
Keyword Location :- I strongly recommend to use your keywords within the first 30-60 words of article paragraph . Reason is simple , most of time I have seen that in Search Results Google doesn't shows meta description , First 30-40 words of your article are used as Meta Description .
Conclusion
Never forget that On Page SEO is as important as Off Page SEO ( Making Backlinks ,Social Sharing Etc. ) . It have its own importance and every blogger makes use of it . Major parts of On Page SEO are following :-
1. H1 Head line
2. Italic Text
3. Title
4. Permalink Structure
5. Keyword Location
6. Alt Image Tag
Now Its Your Turn
Blogging is all about learning and same with SEO . You never can't be a master , you will get something new to learn everyday . And when daily search algorithms are changing, you can't stuck with same SEO Tactics. So that's all I know till now . I would like to know your views over it and also share some other elements of on site SEO that worked for you but I forgot to include .