Winters are definitely the most loved season of the year and it's also the most laziest one. I personally like winters because It's all awesome, no sweat and spicy food is my second love. I must mention, Blankets are the most important element other than electronic appliances in the winter. It's considered as a basic need to have a warm sleeve to have a healthy sleep and we all have experienced it in practise.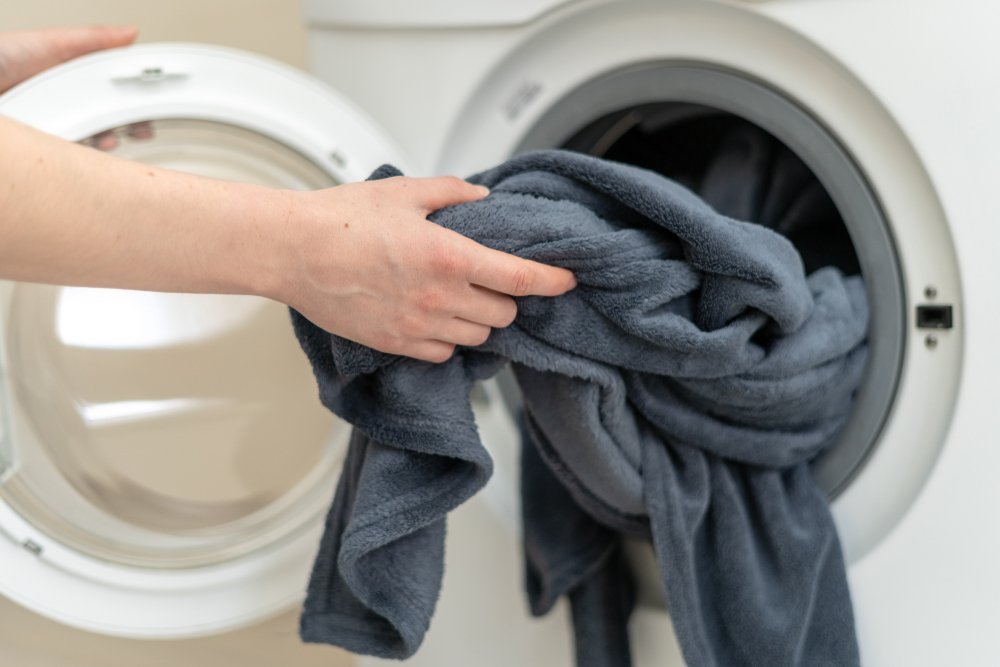 In this article, we are going to discuss how to take care of your blanket and how to give it a harmless wash and let your best washing machine show it's worth. I hope you must have thought of how many times your blanket comes in contact with the dirt you carry from outside on your garments, drink or the oil spills or the food which you enjoy the most being cosy in your blanket. It could definitely be contaminated with contagious germs or bacteria. So it's important to take care of it with some easy to do manual inputs. In Asian countries like India, we go through varying climatic conditions and it makes us habitual of having suitable blanket textiles to use while sleeping. Majorly, there are three most used varieties: throw blanket, quilt blanket and comforter. It is advised to wash or do at least spot cleaning once a month to get rid of any germs or harmful bacteria from the surface of the blanket. I have tried to compile the best procedure for almost every blanket material because it's an important measure.

Let's see them below:
How to wash a throw blanket?

Usually, throw Blankets and heavy warm blankets are one of the most used blankets in anyone's house. It's a usual habit to lay on the couch while taking a rest in between the day or playing with your loved pets in the same space and get cosy in the warm at night. So personally, I advise you to wash the blanket every 15 days or the maximum in a month. It's not a heavy task but you must follow the right procedure and I am going to help you with that. Below are the resources you need:


Front Load or Top Load Washing Machine
Liquid Detergent
Steps to follow:

First of all, identify the visible stain marks on the surface of the blanket and leave the liquid detergent or any soft special stain remover for 15-20 minutes on the stained area. This will help in easy treatment after you put the blanket in the washing tub.
Put the blanket in the washer and make sure you are not washing any other garment with the blanket. Washing it alone is recommended.
Select the cold water setting and use a liquid detergent from Ariel or SurfExcel.
Select a wash cycle (Not a long one, try to go ahead with shorter wash cycles) and let the wash and spin cycle complete.
While you pick the blanket up from the tub, please have a check for any detergent patches and if you find any, I would recommend you to wash the blanket again with the shortest wash cycle.
Keep the blanket in sunlight to dry the remaining moisture.
How to wash the quilt Blanket?

The very first step is to carefully read the label of the comforter. Many times sensitive fabrics are prone to machine wash and it's strictly recommended to go only for a dry-clean for that kind of fabric.
Please take this second point as the most important caution and don't ever overload the washing machine with your blanket. If you have a 6-7kg washing machine and you are trying to wash a king size blanket, indeed, it's going to be depressing for the textile.
Spot cleaning is again a smart move for appropriate washing.
Never use a local detergent powder.
Water setting according to the fabric type.
Drying over the sunlight is again recommended.


Please note and make sure you check for any labels tied on the edges and don't go for a machine wash if it says "only dry clean." and it's important to have an automatic washing machine to do washing machine cleaning with ease. The above procedures are not for a semi-automatic washing machine user. You can either have a top load automatic washer or may be a front load automatic machine. To experience the ultimate performance, you can also check for sensitive fabric oriented wash programmes and if your washing machine has one, utilising it is the best option.


Conclusion:

Above, I have tried to help my readers with finding out the best possible techniques one should follow to maintain the required hygiene by cleaning the blanket with utmost care. I hope you have found this article helpful and your doubts on how to wash blankets are resolved. If you have any questions or queries, please reach out to me and I would love a helpful resource.